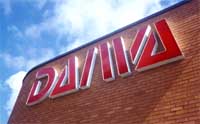 Established in 1979, Daiwa Associate Holdings Ltd. is a leading manufacturer and distributor of wide varieties of electronic components and has offices in Hong Kong, Macau, Mainland China and manufacturing facilities in China. In 1989, Mr. Herman Lau, the founder of this reputable group, set up Daiwa Holdings Inc. in Canada.
Today, Daiwa Holdings Inc. in Canada is a member of Daiwa Associate Holdings Ltd. Over the years of business development, the company has gained its reputation as one of the leading niche suppliers of computers and consumer electronics across Canada. It expands its business vertically from distribution to retail. It also positions itself as a value-added reseller of microcomputer business solutions provided to commercial corporations, government sectors and education institutions.
Product lines of Daiwa in Canada range from major components such as notebooks, motherboards, video cards, monitors, storage devices, networking products, CPUs and memory to computer peripherals such as printers, scanners, keyboards and mouse, mobile products accessories, etc. Daiwa is the distributor of major reputable brands including MSI, EVGA, Thermaltake, Cooler Master, Seasonic, In-Win, Arctic Cooling, Transcend, Patriot, Vantec, Belkin, Griffin Technology, Scosche, Emzone, Cyber Power, HIS & Kopplen in Canada.
To learn more about the company and its products, please visit http://daiwa.ca/contactus.html.